Light is an essential part of a stage performance. With light you create perception, presence, dimension, direction, expectation, emotion. In my work i will emphasize and support what happens on stage, but also try to add an extra dimension or level to it, to enrich the piece and bring it alive.
I am interested in what light does to the spectator, how it changes one's perception, mostly on a subconscious level.
I have a passion for color. Sometimes i use colors as shades, not explicit in their appearance, like color washes, or with the use of subtle filters to correct, diffuse, or converse the light. At other times, more in theatre, the opposite, i use them explicitly, strong blues, greens or reds, with added soft tones and whites, or with the use of projections, through objects or gobos.
My biggest inspiration in setting lights is in nature, the heavens, a sunset or sunrise, or the sunlight at noon breaking through heavy rainclouds in pink rays surrounded by a blue sky, fading from deep to steel blue. Or a forest covered in sunlight, with the shadows of slightly moving leaves.
I like to use lights randomly, scattered, like in natural outer circumstances, with objects that spread and redirect the light. I love to reshape a space, an object, a body, changing its dimensions, depth and perception.
I work with modern dance, improvisation, contemporary or experimental theatre and performance art, in which the light designer has a lot of freedom, but i also create lights for music performances or community projects.
During the years i have worked with and got inspired by performance artists and dancers such as Julyen Hamilton, Dorit Weintal, Vincent Verburg, Sagi Gross, Paul Estabrook, Gabriela Zuarez, Maaike van de Westeringh, Sato Endo, Manuela Tessi, Makiko Ito, Laura Moro, Ji Hye Ko, Gaia Gonelli, Fajo Jansen, Zid Theater, and many others, in spaces such as OT301, Zaal 100, Bimhuis, Muiderpoorttheater, de Brakke Grond, Frascati, Korzo en Grand Theatre.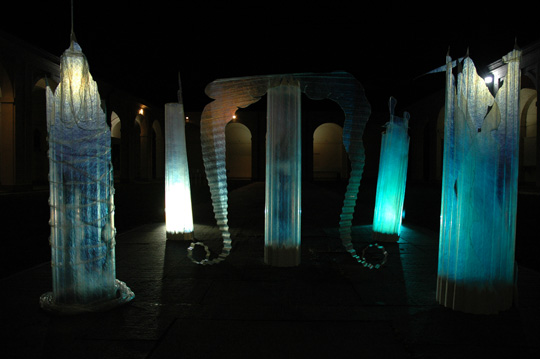 Frozen Angels, Light installation of corrugated plastic, paint, salt and light, Magdalena Festival Torino, december 2010
Apart from this i also make light installations or light improvisations with objects, for festivals or special locations, and give occasionally courses in stagelighting.
My rates for light design, building and performance will vary according to the size of the project and financial possibilities. Please contact me for an estimate cost.
You can contact me at

or call me at + 31 (0)6 38 31 34 16
For a few examples please take a look at my portfolio.
ξ